Remembering How to Drum
(DVD Video; $29.99) This instructional DVD was inspired by Michael Taylor's experiences, observations and insights as a teacher and student of the West African djembe drum. Develop traditional djembe technique and enhance your overall experience in learning the tradition of the West African djembe drum. "Everyone is a drummer," says Taylor, "when we are learning how to drum, we are actually remembering how to drum."
Silence in the Rhythmic Soup
(Audio CD; $14.99) was created based on Taylor's own need for music for Yoga and meditation. Adding previously unreleased material, it utilizes elements from his first 2 cds, largely re-edited and reformed to suit the methodical repetitiveness more useful for a Yoga, meditation or massage practice.
Silence
(Audio CD; $14.99) is Taylor's first total solo work and is the realization of many of his performance art ideas in audio form. Here, concept, interpretation, tradition and expression take shape. Includes special guest Master Drummer Madou Dembele.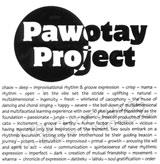 A Touch of Chaos in the
Rhythmic Soup
(Audio CD; $14.99) represents Taylor's beginnings as a djembe drummer. Co-created by Christian Pawola, multi-instrumentalist extraordinaire, this is expressive rhythmic channeling at its best.