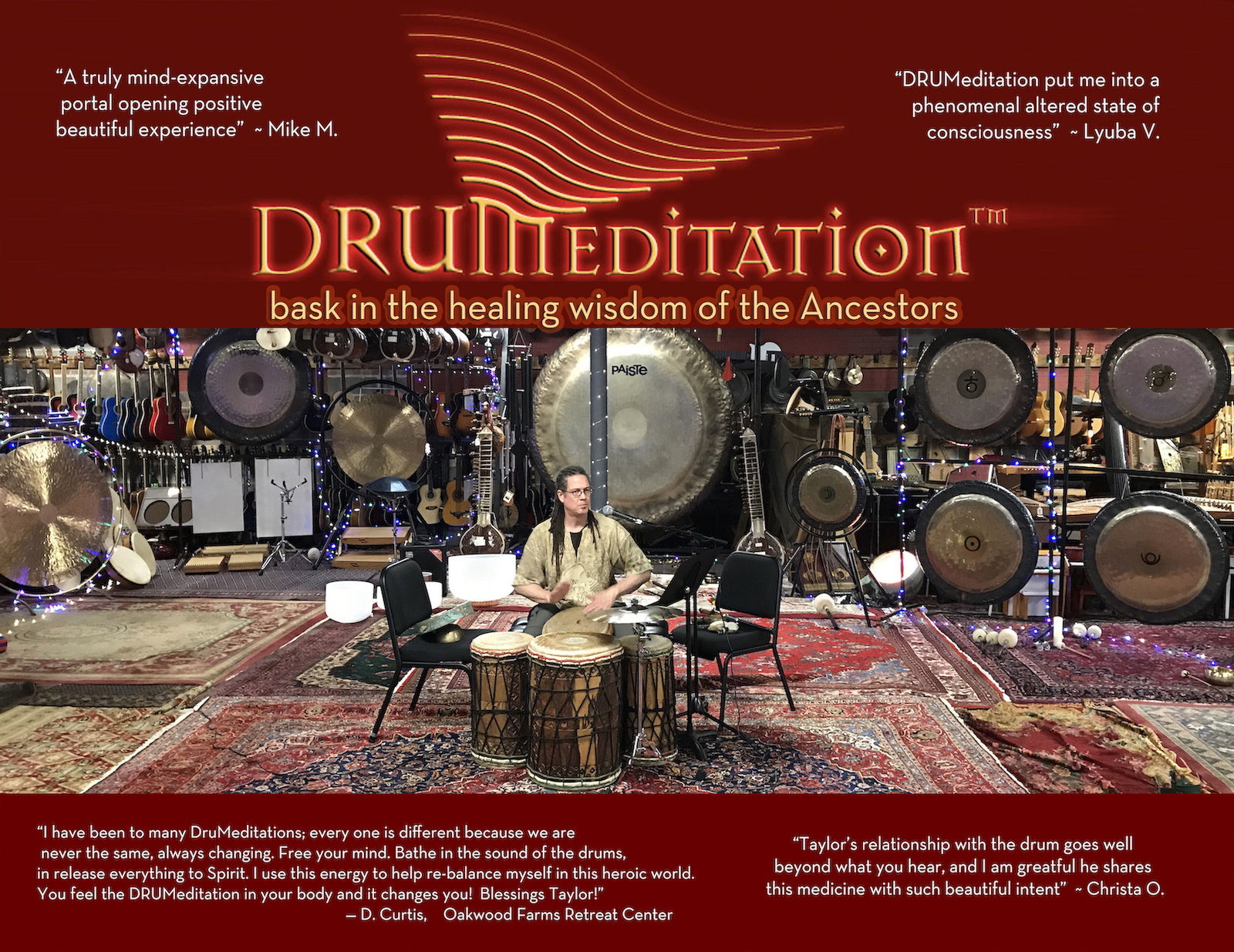 For a video explanation, click the pic! 
This photo was taken at Andy's Music, Chicago in 2018
************
Sat Oct 14th, 2023, 6:30-8:30pm CST
at
Rising Lotus Healing Center
14911 S. Bell Road, Homer Glen, IL 60491
Register here
************
Sat, Oct 28th. 2023, 6:30-8:30pm CST
at
Heaven Meets Earth Yoga
2746 Central St, Evanston, IL 60201
Register here
Stay tuned for more DRUMeditations comin' up!  Scroll down for photos and participant testimonials! 
*******************
Experience deep TRANCEformative states in the DRUMeditation.  The DRUMeditation is a shamanic/spiritual journey induced by a combination of guided meditation and rhythmic environments in the form of drums, bells, shakers, flutes, voices, etc. This unique experience will take you to a place of altered time and space, open energy portals, and connect you to higher states of consciousness and healing.
*******************
Sturgeon General Warning
The DRUMeditation has been rumored to cause ecstatic trance states resulting in the perception of fleshlessness and conchifinally osmic euphoria, integration, coherence, higher states of consciousness, mindfulness, well-being, bliss, trauma and stress release.
*******************
In this moment, we all are called to bring forth our divine gifts to serve the greater good; a greater good. If we do not rise to the occasion, we dishonor
our gifts, not allowing them to fully express and serve the village. Breathe……breathe……breathe and open, just open and allow….well….just allow.  Below is a description of the DRUMeditation™….
*******************
Intention is everything. Thought with intention, action with intention, feeling with intention, breathing with intention – intention can be the difference between the meaningful and the meaningless; the thoughtful and the thoughtless.
Combine the sound and vibration of drumming with intention. What intention? Answer that question as you allow the vibrational power of live drumming to pave the way to the place you need to go. This is what the DRUMeditation™ experience is all about. Created by Taylor, the DRUMeditation™ is a combination of guided meditation and rhythmic environments in the form of drums, bells, shakers, flutes, voices, etc., by Taylor, resulting in a powerful transformative experience designed to open your mind and body, so that you may identify and be receptive to the internal and external healing you need to do.
Imagine this scene: you are lying down in a room, in savasana (in Yoga they call it corpse pose; lying on your back in total relaxation). You are surrounded by other people lying about, all heads pointed toward Taylor. As he gives basic instructions, sets expectations with you and guides you into a relaxed state, the instruments (drums, bells, shakers, flute, voice(s), etc) create a sonic backdrop which will be the magic carpet which will help transport you, while Taylor channels the ancestors. You decide how deep you go; you decide where you go and why; you decide what to do with your experience. Few leave the DRUMeditation™ experience untouched; most leave it profoundly moved.
Why would you come to a DRUMeditation™? Thus far, participants have come from a very wide range of places for many different reasons. Some cancer patients, some with emotional issues, some with eating disorders, some with chronic pain, some with energetic blockages, some who just want to bask in the healing power of vibration and rhythm – all and more are served by way of the DRUMeditation™ experience.
In the words of author and Master diviner Malidoma Somè from Burkina Faso, West Africa during my first reading with him:
"You are a man of medicine with a tool of the ancestors, called upon to use it for the purpose of contributing change and transformation to people." 
"Because you've got to know and you've got to admit, the hand, the gift of the drumming hand that you are equipped with, more than anything else is, in my eyes, profoundly sacred.  It is so much so, that every time you touch it (and I'm watching), what I am looking at is not somebody who is skilled.  It is somebody who is exhibiting ancient wisdom.  It is somebody who is performing a healing right directed at a collective.  It is someone who is tuned in."
Dr. Barry Bittman's has been doing research on drumming and healing and has an article – "Deep Within: Drumming as a Healing Strategy", here is a quote from that article:
"Deep within the essence of who we are there's a sound, a vibration, an emanation that expresses life from every cell. It resonates in harmony with all living creatures – an inner voice ready to emerge as a vital heartbeat that inscribes a personal signature. The rhythm of life is a symphony – the expression of our soul revealed by the conductor within. Our unique voice resounds through the way we choose to live. When we connect with each other and extend ourselves to one another, we share our gift."
For more information, visit Dr. Bittman's website.
For booking information, general inquiries or questions, please contact Taylor via email: Taylor@holygoat.com or phone: (773) 909-8633. To see when the next DRUMeditation™ is scheduled, check the Holy Goat Percussion Events page.
DRUMeditation Facilitator
Taylor (aka Michael Taylor) is a Chicago area author, percussionist, entrepreneur, educator, recording artist, performer and facilitator, specializing in the West African djembe and dunun drums. He founded his business Holy Goat Percussion in 1995, is the Director of the Tam Tam Mandingue Djembe Academy-Chicago School of Percussion (2006) , a branch of the Tam Tam Mandingue Djembe Academy international schools.  He received the TTMDA Instructor certificate, a degree in djembe offered exclusively by Grand Master Drummer Mamady Keita in 2005 and was the first person in the world to take and pass the highest level of TTMDA Senior Instructor in 2006. He teaches, performs, imports, sells and repairs drums and does classes and workshops on traditional West African djembe technique, rhythms and songs. Taylor teaches in the Chicago area at Tam Tam Mandingue Djembe Academy-Chicago, the Old Town School of Folk Music, Merit Music, Chicago Waldorf School, in the Chicago Public Schools, the Cook County Department of Corrections and privately at his studios in Oak Park.
Important info about the DRUMeditation sessions:
Prices of DRUMeditation varies per venue. Reserve with payment or first come, first serve – these sessions do sell out!!!!
PLEASE ARRIVE EARLY!  WITH THIS KIND OF SESSION, WE CANNOT LET LATECOMERS IN!!!!!
Bring a yoga mat/blanket/pillow – something comfortable to lie down on.
Sign up soon, as many DRUMeditation sessions sell out way before the date!!!!
If a given session is under-enrolled, it may be cancelled 5 days prior to the date.
Here's what the DRUMeditation looks like (photos taken at Ahimsa Yoga, Oak Park and Epiphany Center for the Arts, Chicago and The Breathe Discovery Festival):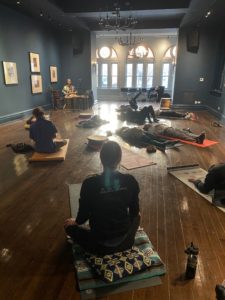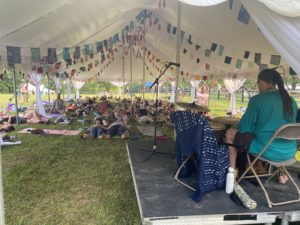 Testimonials:
---
"Taylor's DRUMeditation is a transformative experience. He sets a comfortable, inviting atmosphere and guides participants through mediation with incredible musicianship and storytelling. I left the session with a much lighter spirit. I look forward to attending again at the next possible opportunity!"
— Laura Dee Miller
_______________________________________________________________________________
"It is truly liberating to find a form of meditation that is not sitting rigidly in thought-forbidden stillness."
— Kristina "Hexadevi" Jackson
_______________________________________________________________________________
"Dear Taylor,
How do you do that? Transport one down a river, over the hills and deep in a valley in 2 hours from my tiny office?
Magical indeed- thank you for your abundant talent and generous delivery of drum genius. Was that you playing the entire time? Crazy!
Your authenticity is the genuine article and all those reasons back then and now, we come to replenish to the sound of the Master Taylor.
Thanks for launching my 66th year!"
— Maureen
_______________________________________________________________________________
"Michael Taylor's DRUMeditation is a powerful experience that can be many different things, sometimes all at once. It is a way to get back in touch with your body and breath, to experience connection and community and at it's most illuminating can provide a deep spiritual journey. Taylor's relationship with the drum goes well beyond what you hear and I am grateful he shares this medicine with such beautiful intent. Go for the drumming, leave with a better understanding of self."
— C. Ojeda
---
"Taylor's DRUMeditation was an experience unlike anything I've ever had. A truly mind-expansive portal opening positive beautiful experience I look forward to having again very soon."
— M. Matrejek, Creator of the Breathe Discovery Festival
---
"Taylor is a gifted drummer who brightens my Wednesdays with his improvisational skills in leading our morning yoga class. He's an amazingly talented drummer and he reaches and moves everyone in the room in the most wonderful ways. And besides his amazing talents, he's a wonderful guy. Please don't miss a chance to hear his DRUMmeditation!"
— C. Meredith, Ahimsa Yoga Studio
---
"I have been to many DRUMeditations; every one is different because we are never the same, always changing. Free your mind. Bathe in the sound of the drums, in release everything to Spirit. I use this energy to help re-balance myself in this heroic world.  You feel the DRUMeditation in your body and it changes you!
Blessings Taylor!"
— D. Curtis, Oakwood Farms Retreat Center
---
"The DRUMeditation put me into a phenomenal altered state of consciousness where my body moved to the rhythm of the drums automatically in the most healing way possible. I believe the drums provide an important medicine for our spirits, minds, and bodies."
— L. Vasilyeva
---
"I am no stranger to transcendental encounters, and I can honestly say DRUMeditation was one of the coolest experiences of my life. I can't wait for the chance to do it again!"

— M. Surface
---
"I'd like to offer my endorsement for Michael Taylor's DRUMeditation experience, which I attended last night.
Taylor is a good friend of mine. I've studied djembe with him and, as such, am very familiar with him as a person, an artist, and a percussionist. He is a highly skilled professional, trained in the traditional discipline of Guinean djembe. He is a disciple of, arguably, the best known master of this art on the planet, Mamady Keita. Taylor is one of the very few people in the states (as well as one of the few, internationally) authorized to train drummers in this tradition. As such, the skill and understanding that Taylor brings to this experience is incomparable.
I'd be very surprised if anyone reading this has experienced anything quite like Taylor's DRUMeditation. I've studied meditation, healing, and energy work under top shelf teachers for decades, and have attended a variety of such guided meditation experiences that involve music, percussion, gongs, etc.. Most are paced to be very peaceful, relaxing, and lilting. They're wonderful. As I said, relaxing. DRUMeditation is geared very differently than these (at least compared to those that I've experienced). The meditation starts, and winds down, with this gently relaxing, but its core is far, far more energetic and takes the participant through a range of emotions and body experiences. The percussion, from a variety of instruments, and along with Taylor's spoken direction, fills the room and immerses you in an ocean of sensation.
I think that the primary value of any such experience is about resetting your energy; an intervention, inviting you to break from your habitual vibration and, especially, whatever challenges that you're being distracted by. The percussion insists that that your body shifts, and you are very much drawn back into present time. It's a "cleansing". Taylor's guidance for the participants is intuitive and shifts as the energy of the room demands. It is not a "canned" experience and is driven by the needs of those participating. It is a "personal" healing.
I'm going through a huge life transition now. Certainly, one of the most challenging in my adult life. I found the meditation timely and useful. It gave me real, and unexpected, insight into what this next step that I'm looking at needs to be. I heartily recommend that you try it for yourself. You won't be disappointed."
— Robert Eugene Stotts
---
"Taylor's drumming delivered my mind home to its seat in the heart."
— Seema Trivedi